An immersive, multidisciplinary exhibition that features the collaborative works of five emerging interdisciplinary artists: Ayesha Beg, Kaila Bhullar, Conor Day, Marwah Jaffar, and Carson Keller. 
'DissFunction of FUNKtion' is inspired by explorations of the relationship between the body, mind, and presence of technology; the artists created a perceptually-stimulating atmosphere that walks viewers through an abstract representation of their collective inner reflections. Various technological mediums and sensory components aid in the generation of a critical space that raises questions about the unknown and individual positioning. The body of work includes video-based installation, projection, sculpture, dance, and sound art. 
The artists were selected for a 2023 pod residency series brought to you with support from the City of Vancouver and BC Arts Council. This exhibition is the culmination of a collaborative residency at the James Black Gallery in which artists were invited to generate art that delves into the problems, conflicts, sources of collective joy and inspiration that touch our communities. 

The James Black Gallery is a queer-led arts and culture hub dedicated to giving a voice to emerging artists in Vancouver, providing space for community engagement, and experimental multidisciplinary art practices. We offer studio and gallery space with a focus on remaining responsive to the ever shifting needs of our community.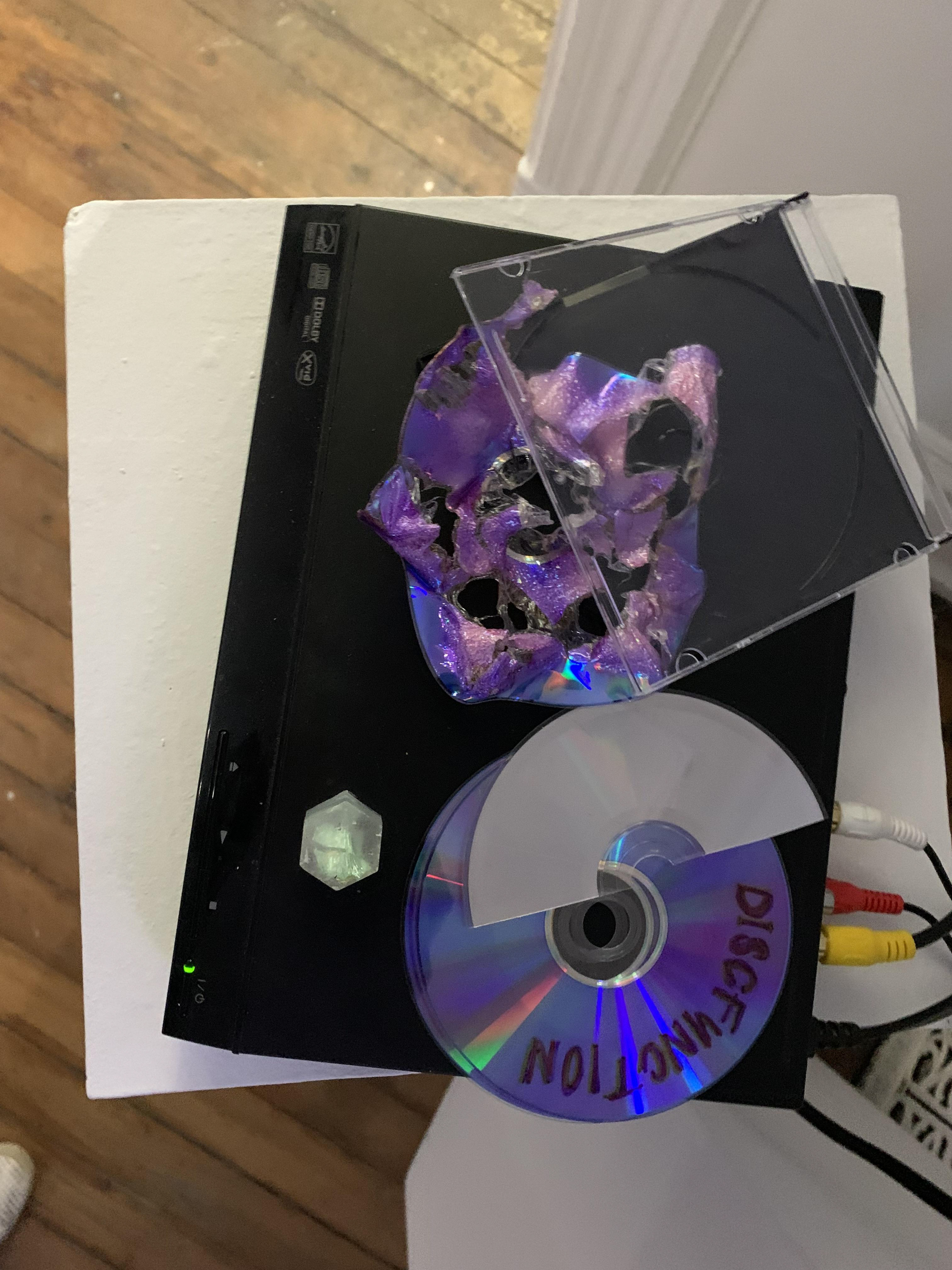 CRT video installation -- Kaila Bhullar (She/They) 
Installation inspired by the "discfunctional" nature of humanity. Video is 4:32 min in length, though loops continuously, and features a single SFX that integrates into the multichannel spatial audio installation by Conor Day. Video features dancing by Carson Keller, and installation features a melted CD by Marwah Jaffar.
Multichannel spatial audio installation -- Conor Day (He/Him) 
Features 4 simultaneous audio loops, 5 audio outputs (4 speakers, looped SFX playing from CRT every 4 mins), and 2 live elements (feedback loop, live synth + mixing). Full version of audio is 18:36 in length. Composition featured additional recorded sound contributions by Kaila Bhullar.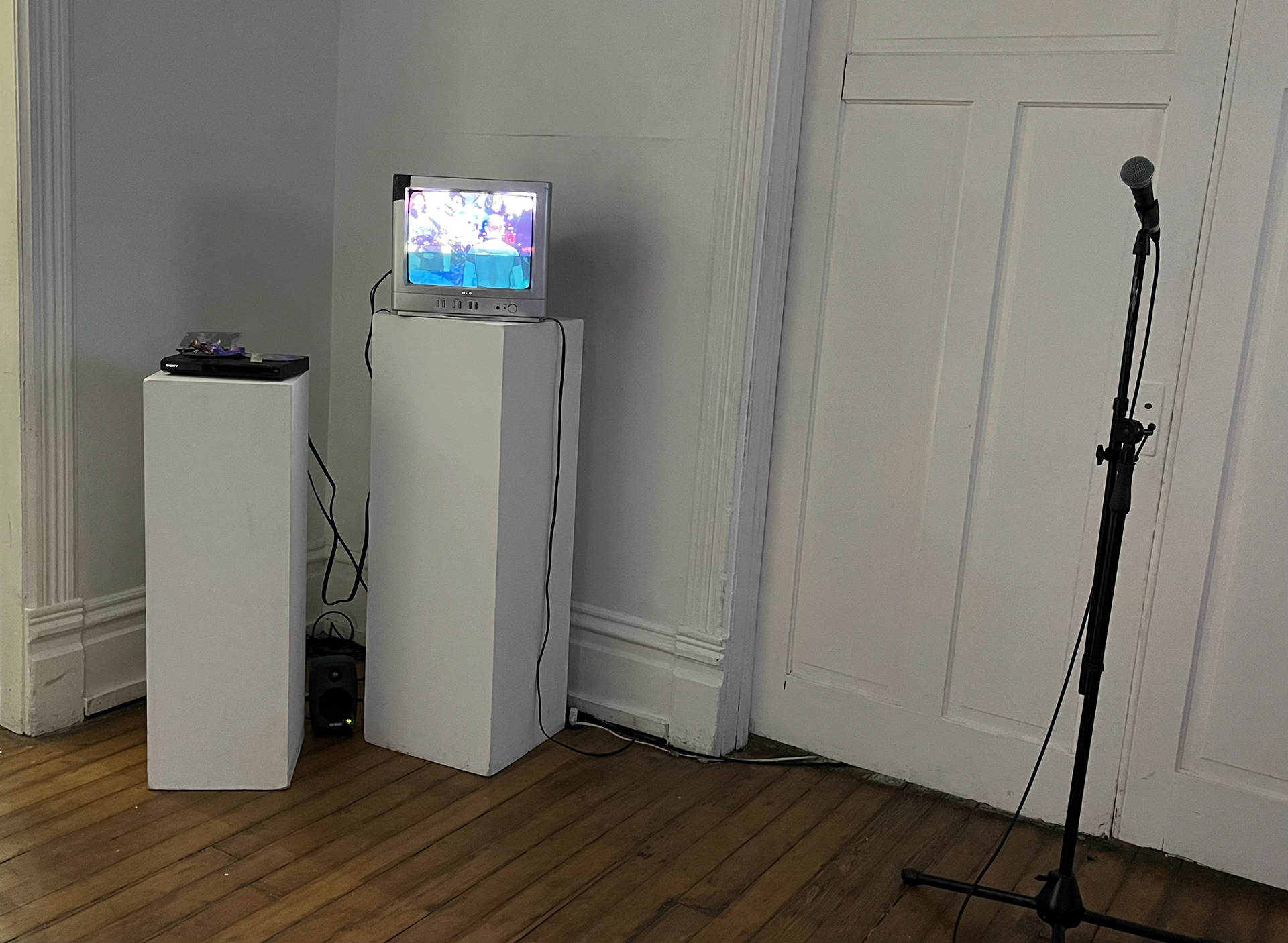 CD sculpture -- Marwah Jaffar (She/Her) 
Sculpture made by process of melting a range of found CDs and discs with a heat gun. Work was displayed in space with a purple light. Assisted melting and assemblage by Carson Keller.
Dance-based video [projection] -- Carson Keller (He/Him)
Video made using layered green screen footage over various created and found textures. Full video is 10:33 min in length. Timing of video was created with the attempt of being able to ambiguously sync with any audio.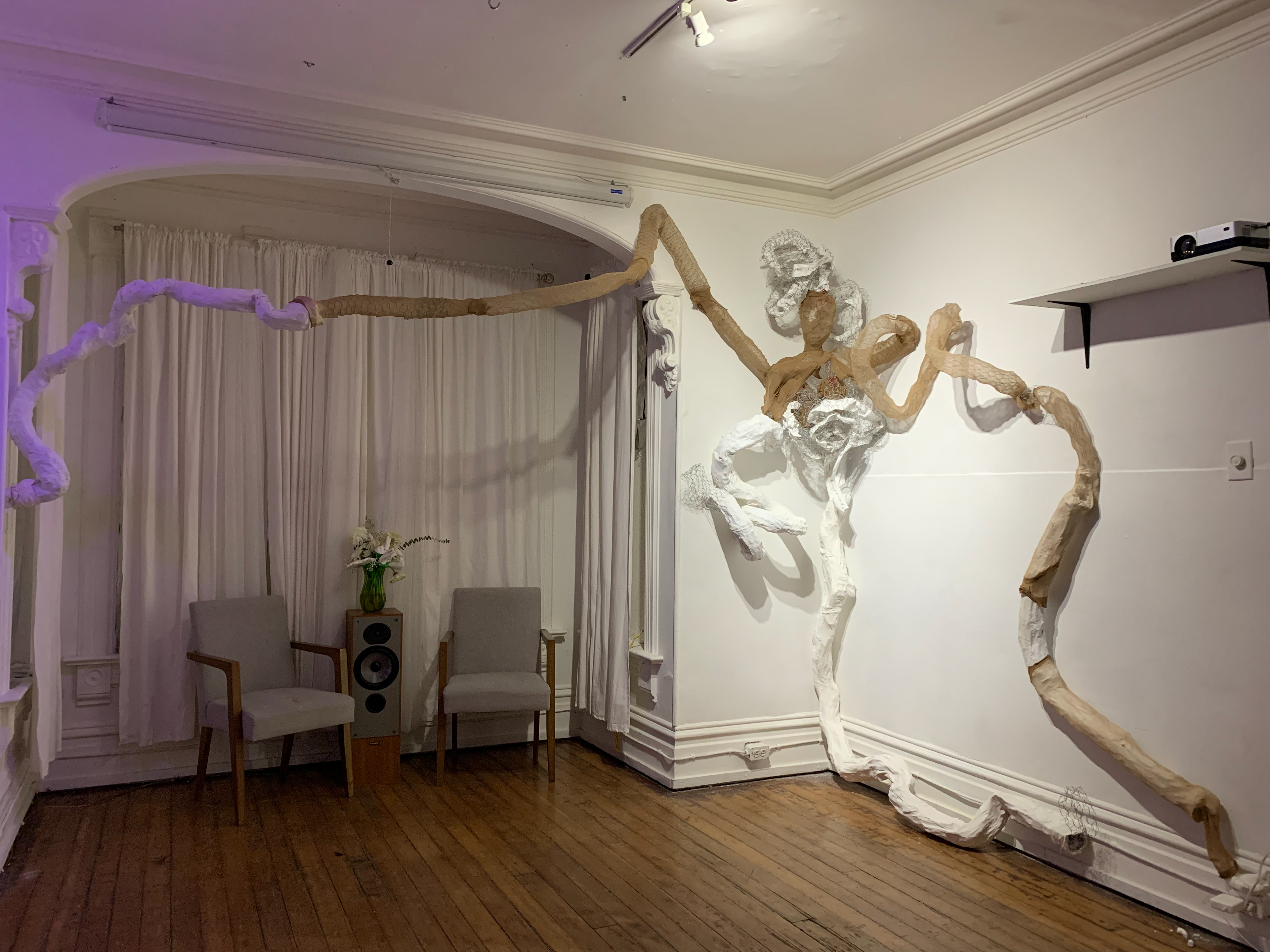 Body sculpture -- Ayesha Beg (She/They) 
Site-specific sculpture installation made using plaster, chicken wire, + nylons.